Gerakbudaya Year End Book Sale Starts Today!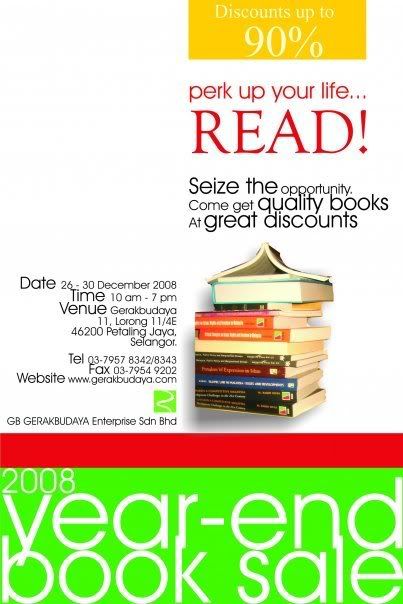 Jualan Akhir Tahun Gerakbudaya 2008
Start Time: Friday, December 26, 2008 at 10:00am
End Time: Tuesday, December 30, 2008 at 7:00pm
Location: Gerakbudaya
Street: 11, Lorong 11/4E
City/Town: Petaling Jaya, Malaysia
Diskaun sehingga 90% =
Discounts up to 90%
Marilah mendapatkan beraneka jenis buku yang bermutu =
Seize the opportunity, come get quality books at great discounts
Membaca membuat anda lebih hidup! =
Perk up your life..R E A D!
Tidak mampu berbelanja buku kerana dihimpit kesusahan atas krisis kewangan dan ekonomi global?
Jangan bimbang kerana kami di Gerakbudaya akan meneruskan tradisi saban tahun kami dengan menawarkan buku-buku bermutu terbitan dan edaran kami dengan harga diskaun. Diskaun tidak terhad hanya pada buku-buku lama, malah buku-buku terbaru juga tidak terlepas dari dimurahkan.
Jika anda mencari buku-buku berkaitan sains sosial yang meliputi subjek politik, ekonomi, gender, pengajian Malaysia & Asia, isu-isu global dsb, inilah masa terbaik. Selain itu, karya-karya fiksyen anak muda dan buku-buku dari Indonesia juga ada dijual serta banyak lagi.
Jom beramai-ramai ke pejabat merangkap galeri buku kami di Seksyen 11 Petaling Jaya berdekatan dengan Hospital Universiti dan sangat hampir dengan Restoran Grand City dan Sri Pandi. Jika gagal menemui lokasi kami, jangan segan hubungi 03-7957 8342/8343 atau 019-389 3804 untuk bercakap dengan Zulhabri atau 016-379 7231 dengan Pak Chong.
Ayuh bergerak ke Gerakbudaya!
Gerakbudaya Year-end Book Sale 2008
Are you unable to spend money on books due to the credit crunch?
No worries! Gerakbudaya continues its annual sale of quality books at great discounts. Discounts are not limited to old titles. New titles will also be discounted.
Grab this opportunity to look for books on politics, economics, gender, Asian and Malaysian Studies, global issues and more… Youth fiction and books from Indonesia are also available.
Come one, come all to our Office-cum-Book Gallery at 11, Lorong 11/4E, 46200 Petaling Jaya. We are nearby University Hospital but nearer to Grand City and Sri Paandi Restaurants.
If you fail to locate us, please do not hesitate to call us at 03-7957 8342/8343 or call Zulhabri at 019-389 3804 or Pak Chong at 016-379 7231.
HURRY, LETS GET TO GERAKBUDAYA!