Mari berbudaya bersama Gerakbudaya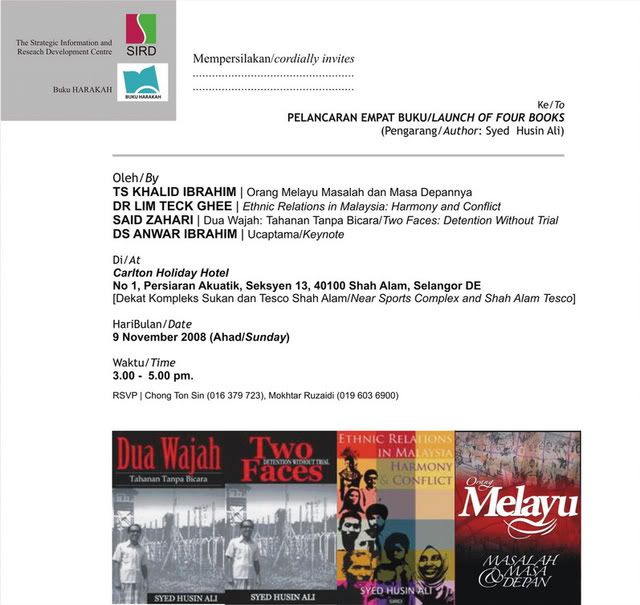 Strategic Information and Research Development Centre (SIRD) cordially invites you to the launch of four books by Dr. Syed Husin Ali, the renowned academic turned political activist, prolific author and Deputy President of Parti KeADILan Rakyat (PKR).
The event will gather luminaries that include Tan Sri Khalid Ibrahim, the Menteri Besar of Selangor, who will review Orang Melayu: Masalah dan Masa Depanya; Dr Lim Teck Ghee, Director of the Centre for Policy Initiatives, who will review Ethnic Relations in Malaysia: Harmony & Conflict; and Pak Said Zahari, eminent journalist and former editor-in-chief of the Utusan Melayu Group, who will review the Malay and English editions of Dua Wajah: Tahanan Tanpa Bicara/Two Faces: Detention without Trial.
The Honourable Datuk Seri Anwar Ibrahim will grace the occasion and deliver the Keynote Address.
ALL ARE WELCOME
Date : Sunday, 9 November 2008
Time : 3.00 pm – 5.00 pm
Venue : Carlton Holiday Hotel
1, Persiaran Akuatik, Seksyen 13
40100 Shah Alam, Selangor
For further information, please call En Zulhabri at 03-79578342-43
Mr. Chong Ton Sin
Executive Director, SIRD