50 Things I Like About Klang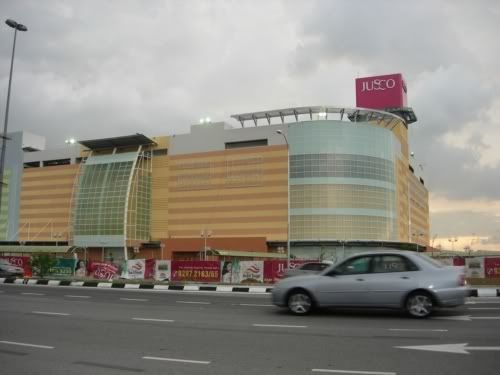 AEON Bukit Tinggi akan dibuka tidak lama lagi

Kepada orang-orang Klang, sila layari dan mendaftar diri untuk menjadi ahli forum di

www.myklang.com

Sambil bernostalgia dan bertemu kenalan baru, kita boleh sama-sama memberi idea untuk membangunkan bandar Klang supaya lebih maju, aman dan bersih. Berikut aku senaraikan 50 perkara yang aku suka tentang Klang baik positif dan negatif yang aku kongsikan bersama ahli Myklang di forum. Mungkin banyak perkara dibawah tidak relevan atau memberi apa-apa makna atau nilai nostalgia kepada mereka yang tidak pernah menetap di Klang, tidak mengapa.

Esok 25 Oktober bertempat di Starbucks Centro, satu pertemuan ahli-ahli dan juga bukan ahli Myklang akan diadakan. Kepada yang berminat, jangan segan-segan, waktunya pukul 9 malam.

1. Ocean (now Billion) - there is amusement(video game) centre inside there, hidden from public, always spend my money there especially after collecting my duit raya
2. Plaza Chi Liung (now Plaza Metro) - heaven for gamers like me..spend almost a day playing street fighter, f1 and football games. Very cikai back then
3. Orchard Department Store (now Mydin) - very cool place back then, ABC Ahsoo kat tingkat atas memang sedap
4. Jalan Kapar - the most dangerous in the world
5. Hentian Kota - abandoned project across the river
6. Padang Sultan Sulaiman - my first experience with balloon gas
7. Pangsapuri TNB Kapar - i grew up here, cool place to stay in, many facilities available
8. Video games shop all over Klang & Kapar - i explored every corner of the road just to play video games
9. Noor Book Centre - the best place to buy school text books
10. Hankyu Jaya (now Kamdar) - considered a bit upmarket at that time
11. Econsave - when it first opened their branch in Kapar, every Kaparians going crazy
12. 99 Speedmart - now going big, they opened their first store in BB recently
13. Bee's Bakery - Klang homegrown bakery. Always buy from them b4 Rotiboy and the gang invade us
14. Aminah Hassan - my favourite sauces
15. Meru Industrial Park - another failure project
16. Goldcourse Shopping Mall - another failure shopping mall
17. Pasar Jawa - the best place to shopping during raya
18. Karipap tiga segi dekat Gama - tak pasti ada lagi atau tidak
19. KSOC bus - ticket from Kapar to Klang cost me only 30cent back then
20. Bukit Raja Shopping Centre - decent crowd over there before Mat Rempit suka dating di sini
21. Shaw Centrepoint - banyak bohsia (dulu la, sekarang tak pasti)
22. Klang River - i dream one day i can take a boat ride to Port Klang or even to KL
23. TGV Bukit Raja - they choose Klang instead of other town at that time
24. GSC Klang Parade (now karaoke joint) - good place for couple, not many peoples
25. Pustaka Klang - the best place to buy magazines
26. Kapar Marine Park - never take off i guess
27. Taza kat Plaza MPK - gulung tikar after a few years
28. Regal Cinema - my first experience with Indonesian movies ; )
29. Jalan Pasar - the most horrible road in Klang, but managed to be a venue for Tour De Langkawi few years back
30. Pasar Klang (now Klang Tower) - always avoided this place if I'm on my way to Ocean
31. Institut Hafiz - almost study here
32. Tanjung Harapan (Gila) - mat rempit rules this place, go to h**l you guys!!!
33. Bata - as always, Klang landmark until now
34. Abandoned hotel in BBK - don't know when they will resume the project.
35. Abandoned commercial building in BBK - i heard Carrefour will open here, but suddenly they opened in Jalan Kapar. What happen to this building, i need to ask Acmar, perampas tanah penduduk Kampung Beremabang
36. Berkeley Food Court - good to see a lot of peoples here. I was there during the opening.
37. Regency Condominium - the first condo in Klang, please correct me
38. Centro - not an eyesore anymore
39. Connaught Bridge Power Station - i like the building, beautiful
40. Kampung Jawa - banyak masakan Melayu di sini
41. Little India - very colorful all the times
42. Old Klang Bus Station - meeting point for me & my friends when we 'budak baru naik'
43. Great Wall Klang (no more, burnt already) - always shopping here with my parents
44. Kapar town - a lot of development happens here
45. Ang Hiok Gai - Keadilan candidate for Parlimen Kapar got quite a lot of votes from Malay voters during 2004 GE, Kapar is predominantly Malays majority seat
46- Teng Chang Kim - DAP candidate for DUN Sg. Pinang got a quite a number of votes from Malay voters during 2004 GE
47. KESAS Highway demonstrations - i wonder whether this will happen again in the future
48. Bayu Villa - my palace, not as big as Zakaria Deroos though
49. Klang town skyline - very beautiful if we look at from Bangunan MPK, Klang Boleh!
50. Bandar Bukit Tinggi and surroundings - so developed with so many shop houses and makan place. But at the same time please don't forget to remember and also help those poor former Indian estate workers. I want to know what happen to them.