Anti-toll hike protest: More arrests made- Malaysiakini
Feb 4, 07 5:05pm
Fifteen people were arrested in front of Puchong's IOI shopping mall in the fourth demonstration in just as many weeks against the sharp highway toll increases.
Organised by Protes - a coalition of opposition parties, trade unions, civil society and student groups - the demonstration, which began about 4pm today, drew about 1,000 people at its peak.
Among those arrested were key leaders of opposition parties including PAS parliamentarian Salahuddin Ayub, PKR's Tian Chua, R Sivarasa, Badrul Hisham and activist Mohd Ezam Mohd Nor.
The IOI shopping mall is about 1km away from the Damansara-Puchong Highway (LDP), which registered the sharpest increase in the recent toll hike - from RM1 to RM1.60 per trip.
Most of the major access roads to Puchong, a southern Kuala Lumpur suburb which sits in the centre of several highways, require motorists to pay toll.
Two rounds of arrests
After initially gathering at entrance to the mall, a group of 250 protestors began marching towards the highway where the crowd later swelled to about 1,000 people.
The protestors were congregrating beside the highway for about 10 minutes before Subang OCPD Fuad Talib issued a warning for the crowd to disperse.
This was followed by several arrests at about 4.45pm and loud jeers were heard from the crowd.
Despite protestors staying clear from the highway, the police decided to close off certain lanes to motorists, causing traffic to snarl up.
Later, Sg Pinang assemblyperson and DAP politician Teng Chang Khim (photo above) announced to the crowd that he and Fuad had struck a deal where detainees would be released on condition that the protestors disperse.
However, several of those detained were whisked away in a police truck.
In response, Tian Chua urged the crowd to converge at the Puchong police station, where several protestors were detained.
About 300 protestors ended up regrouping directly opposite IOI shopping mall and again started chanting slogans denouncing the toll hike.
A second wave of arrest then took place, prompting the protestors to march towards the police station some five minutes away.
There was no provocation from the crowd nor did the protestors react violently during the arrests apart from some struggle being put up by a few of those being taken away.
At about 6pm, some 70 riot police arrived to bolster the local police presence, and they formed a cordon outside the Puchong police station. The riot police came equipped with a water-cannon truck.
While outside the police station, the protestors held an 'open mike' session where various activists, politicians and individuals took turns to denounce the toll hike and sing reformasi songs.
Suara Keadilan reporter held
By 8.30pm, all 15 were released on police bail. They will have to report back at the same station on Feb 21.
"Protes will meet as soon as possible to decide on the date and venue for our next protest," a defiant Tian Chua told some 100 cheering supporters on emerging from the police station.
A number of those arrested today, including Tian Chua, were also detained by the police at the third protest two weeks ago.
Among those arrested today was Syfiq Sunni, 20, a full-time reporter for Suara Keadilan, PKR's party organ.
He told malaysiakini that he was caught in the melee during the first wave of protest and one policeman had tried to seize his camera.
Syfiq said that he was arrested after he refused to hand over his camera. However, he managed to pass his camera over to a friend before being hauled away.
This is the second time a member of the press had been detained during the four anti-toll hike rallies that have taken place over the past five weeks.
Secret toll deal
Two Sundays ago, the police swooped in to prevent anti-toll protestors from gathering near the Cheras-Kajang Highway Batu 11 toll booth and arrested 21 people.
A malaysiakini journalist was detained by the police for two hours as they sought to obtain the photos he had taken. However, he was freed without the photos being handed over.
In this particular protest, eyewitnesses have accused the police of using excessive force when making the arrests.
Several protestors claimed that they were victims of police abuse while the Human Rights Commission (Suhakam) is deliberating on whether to probe the incident.
In constrast, the first two demonstrations - Subang's Sunway City on Jan 7 and Gombak's KL-Karak toll booth on Jan 14 - went off without any incident.
Effective Jan 1, the toll rates for five highways in the Klang Valley saw an increase between 20 to 60 percent.
There is also much disgruntlement over the government's reluctance to make public the highway concession agreements.
Four opposition leaders are being
hauled up tomorrow
for releasing a toll agreement classified under the Official Secrets Act.
Apart from LDP, the other highways affected by the toll hike are the Shah Alam Highway, Cheras-Kajang Highway, Kuala Lumpur-Karak Highway and the Guthrie Corridor Expressway
Pusingan Kedua (aku terlepas pusingan pertama semasa di hadapan pintu IOI)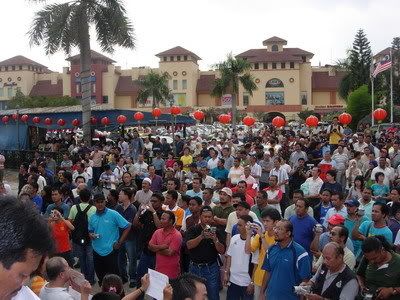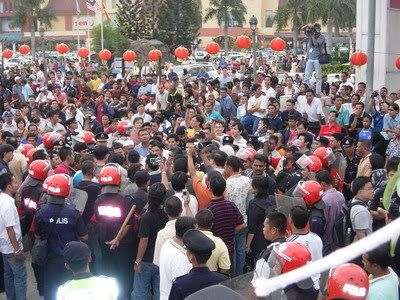 Berunding dengan pihak polis, jika tahanan dibebas peserta akan bersurai, malangnya polis enggan maka berdemolah lagi kami
Setelah dihalang menaiki jejantas (apa ke bodoh sangat polis, suruh bersurai tapi nak halang orang guna jejantas), demo diteruskan di seberang jalan. Lawan tetap lawan. Pihak polis ingat senang2 je nak patahkan semangat peserta, mereka silap besar.
Pusingan keempat (di hadapan Balai Polis Puchong Jaya)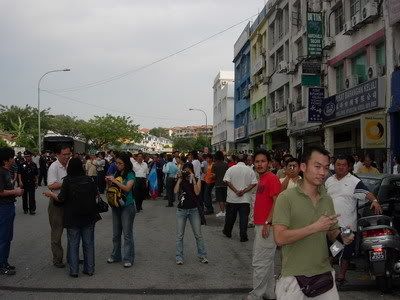 Peserta berbilang kaum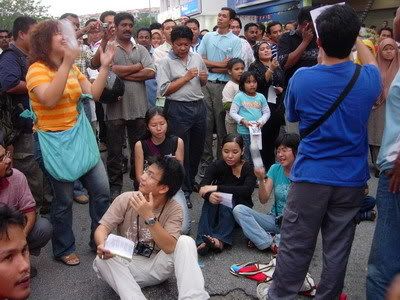 Amoi cute (baju hitam) ni mmg rajin ke demo, sedang menyanyi lagu Suara Rakyat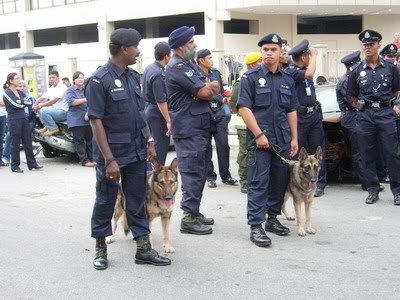 Siap bawak anjing, kebodohan polis yang nyata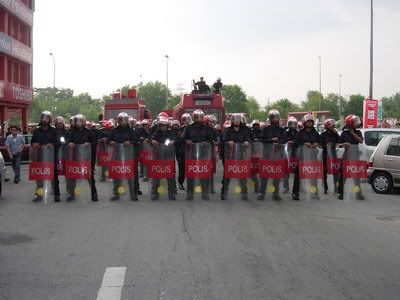 Tiada kelibat FRU wanita kali ini