Terkini dari Gerakbudaya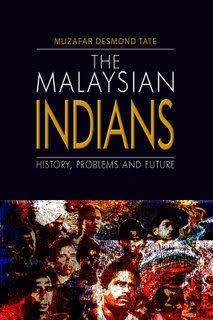 The Malaysian Indians: History, Problems and Future
Muzafar Desmond Tate
Publisher: SIRD
ISBN-13: 978-983-3782-54-3 (Paperback)
241 pages
RM40.00
ISBN-13: 978-983-3782-55-0 (Hardcover)
241 pages
RM120.00
The Malaysian Indians comes at an important juncture in the history of this significant minority group in Malaysia. Written several years before the Hindraf rallies of 2007, this book is a much-needed introduction to the Indians of Malaysia.
It is a balanced, scholarly yet highly readable account of the origins, economic and political contributions, and continuing divisions and problems faced by this diverse community.
The focus is on those who migrated or were brought to work in colonial plantations and the civil service in the late 19th and early 20th century. Both the educated and poor labouring classes came to this nation seeking their fortunes, and became part and parcel of this growth, prosperity and political upheavals.
Readers are also reminded of the important, centuries-old, pre-colonial ties between India and Southeast Asian---links that deeply influenced kingship, religion, culture and trade, including in the Malay world. This book also traces the key contributions of individuals and groups in the making of Malaya as well as Malaysia. It is hoped that this book will be the springboard for more research, rational discussion, and informed public debates and policies about the Malaysian Indians, including its poorest, most marginalized, sections.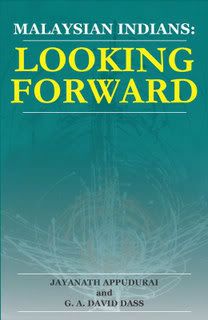 The Malaysian Indians: Looking Forward
Jayanath Appudurai & G.A. David Dass


Publisher: SIRD
ISBN-13: 978-983-3782-56-7
51 pages
RM8.00
This booklet contains some recent statistics about the Malaysian Indians.
Jayanath Appudurai, [B.A.Hons, S'pore; MBA, Monash] served as an Administrative & Diplomatic Officer with the Malaysian Civil Service for thirty-two years. He held the post of Director, National Science Centre prior to his retirement in 2005.
G.A. David Dass, LLB Hons, University of Singapore: LLM (King's College, University of London), called to the Malaysian Bar in 1971 and in active private practice for more than 30 years.
Sesiapa yang berminat nak membeli dengan harga diskaun, jangan segan2 nak hubungi aku. Malu tak dapat ilmu.