Menarik minggu ini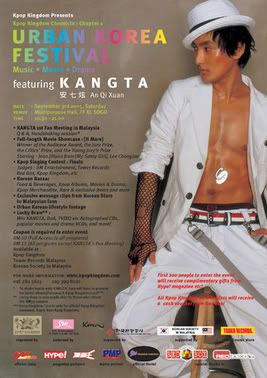 URBAN KOREA FESTIVAL FEATURING KANGTA
DATE / TIME
3rd September 2005, 10.30am - 8pm
VENUE
Multipurpose Hall, 7F, KL Sogo
TICKET PRICE
RM 50 - Full Access to All Programs
RM 15 - All Programs EXCEPT KANGTA's Fan Meeting
KANGTA 1st Fan Meeting in Malaysia ~ Q & A,Handshaking Session (*)
Full-length Movie Showcase : (II Mare) ~ Winner of the Audience Award, The Jury Prize, The Critics'Prize, and the Young Jury's Prize (Starring - Jeon JiHyun from "My Sassy Girl", Lee ChongJae)
Kpop Singing Contest : Finals ~ Judges : SM Entertainment, Tower Records, Red Box, Kpop Kingdom, etc
Korean Bazaar ~ Food & Beverages, Kpop Albums, Movies & Drama, Kpop Merchandise,
Rare & Exclusive Items and more
Exclusive message clips from Korean Stars to Malaysian fans
Uran Korean lifestyle footage
Lucky Draw (**) ~ Win KANGTA, BoA, TVfXQ etc auographed CDs, popular movies and dramas VCDs and more!
First 200 people to enter the event will receive coplimentary gifts from Hype! magazine etc!
All Kpop Kingdom Card holders will receive a cash voucher from Red Box Ria!
* To shake hands with KANGTA, fans will have to present his latest album (Persona) & Kpop Kingdom Card (***)
** Lucky Draw is only applicable for those who obtain the RM50 ticket
*** Kpop Kingdom Card is only for official Kpop Kindom members. Apply from Kpop Kingdom
Gt your tickets NOW!!
Click on
http://www.kpopkingdom.com
for further details on the event.
kelab seni filem malaysia
presents
INDIE HALO-HALO
a weird weekend of recent (and not-so-recent) filipino indie flicks mixed and matched by mervin espina september 2 to 4 @ HELP university college, pusat bandar damansara , kuala lumpur enquiries: 012-2255136
read more...

FIM Asia Road Racing Championship - Round 4
Place: Sepang International Circuit
Date: September 2 to 4
read more...