KLAB minggu ini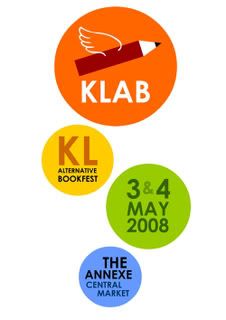 Setelah bertungkus lumus sebulan kebelakangan, akhirnya
KLAB
akan membuka pintu untuk para pembaca dan bukan pembaca esok, sabtu 3 Mei sehingga ahad, 4 Mei di Annexe, CM mulai pukul 12 tengahari ke 6 petang.
20 gerai akan dibuka + 4 buku yang akan dilancarkan + 1 forum tentang book banning. Itu tak termasuk acara2 pada World Press Freedom Day anjuran CIJ yang diadakan di sebelah saja, gerai2 di Art for Grabs kt tingkat atas dan 2 gig pada sabtu & ahad. Memang meriah giler minggu ni.
Selain di CM,
Maskara
oleh Sindiket Soljah juga akan diadakan pada sabtu malam di Rumah Pena.
Jom datang jangan tak datang, jangan balik kampung minggu ni kalau xde hal2 penting. Kunjungan ke Annexe lebih utama dan mengatasi segalanya.
KLAB di Facebook
Selak Book Launch di Facebook
Wacana on book banning di Facebook
Kakiscript Book Launch di Facebook
Art For Grabs di Facebook
Da Huang Web Store Launch + Audition For Grabs @ The Annexe
FARISH NOOR on "The Lost Tribes of Malaysia"
Dong Tai Du Festival
KLAB 2008! The Book Fair with An Edge!
KLAB – the Kuala Lumpur Alternative Book Festival – hits KL on 3 to 4 May 2008. This is a book fair with a twist and kick, and you don't want to miss it. Spicing it up are four book launches, guaranteed to turn you into a literary anarchist!
Kuala Lumpur, April 29, 2008 – On 3 to 4 May 2008, a new book festival will be launched in Kuala Lumpur, at The Annexe, Central Market. Touting itself as an alternative to commercial book festivals and warehouse sales, KLAB 2008 promises the discerning reader a different read altogether. Literary fiction, politics, religion – written by local writers and published by over 20 local publishers who are passionate about books, writing and the causes they champion, such Silverfish Books, Z Publishing, Suara-Suara, Gerak Budaya, SIRD, to name a few. If you want to know what makes Malaysia Malaysia, head over to the stalls and talk to publishers and writers like Daphne Lee, Raman Krishnan and Raja Ahmad. They'll tell you!
There will be book launches and forums to make the weekend a hit among book-lovers. The event programme is as below:
Saturday
1.30pm -3.00pm
Launch: "SELAK: A Journey Towards Clean and Fair Elections" - a BERSIH coffee-table book
Welcome speech by Faisal Mustaffa (secretariat of BERSIH and co-ordinator for SELAK)
Speech by Haris Ibrahim and book launch
Bersih after Election's : What's next? by Liew Chin Tong (Member of BERSIH Steering Committee & Bukit Bendera Member of Parliament)
Reading of poem; Seruan Rakyat BERSIH by Rozan Azen Mat Rasip
4pm - 6pm
Wacana on Book Banning: Readers Want Answers
Presenters :
V. Gayathry (Centre for Independent Journalism)
Astora Jabat (bekas ketua pengarang Al-Islam dan bekas kolumnis soal jawab agama di Utusan Malaysia)
Norhayati Kaprawi (Sisters In Islam)
Representative from Home Ministry (to be confirmed)
Each presenter is given 15 minutes and we hope their input will spark a lively discussion from the floor. Input can be either in Bahasa Malaysia or English.
Sunday
2pm – 3pm
Joint book launch: Kakiscript & Aweks KL
Nik Nazmi Nik Ahmad will launch Kakiseni's Kakiscript. A brief bio of Nik Nazmi:
Nik Nazmi Nik Ahmad, 26, was elected as Seri Setia State Assemblyman in Selangor on 8 March 2008. Following the election he was appointed as Political Secretary to the Menteri Besar of Selangor, Tan Sri Dato' Abdul Khalid Ibrahim.
Nik Nazmi is an active member of the People's Justice Party (Keadilan), and was Private Secretary to Keadilan De-Facto Leader Datuk Seri Anwar Ibrahim from 2006 up to the 2008 general election. Nik Nazmi is also currently Keadilan National Youth Exco member and Keadilan Kelana Jaya Division Vice Chief. He also heads the Research and Publication Bureau for the National Elections Committee.
His essays have been published by Malaysiakini, Asia Times Online, the Edge, the Sun, Tamadun, Suara Keadilan and Harakah. Nik Nazmi has also appeared on the BBC World Service and Channel News Asia to give his views on current affairs. In 2001, he founded SuaraAnum.com as a web magazine for young Malaysians. He has also spoken at various events including those organised by Majlis Shura Muslimun, Pertubuhan Kebangsaan Pelajar Islam Malaysia (PKPIM), the Bar Council, Youth for Change, Nanyang Siang Pau, the British Council and Institut Kajian Dasar.
4pm – 6pm
Religion Under siege book launch
4.00pm : Arrival of guest
4.10pm : Opening ceremony by MC
4.15pm : Opening speech :Vicknesan (Malaysiakini)
4.20pm : Launching of Religion Under Siege?
4.30om : Book sharing by Nathaniel Tan
4.40pm : Q & A session
4.50pm : autograph session
5.00pm : End
At the Book Giveaway, anyone with too many books at home can leave them at the Annexe, and those who want more books, may grab them for free! Caveat: each 'buyer' can take home only three books. Hey, they're free, what's the fuss?
KLAB is also a part of The Annexe's Art For Grabs, the bazaar for art under RM100! Also going on is World Freedom Press Day workshops and rock gigs on both days.
ART FOR GRABS is back with more than you can grab! We now fill up two whole galleries plus the loft plus both studios.
The Annexe's "talk of the town" art bazaar is for
1. Art lovers who always wish they could bring something beautiful home from a gallery but have never found anything that fits their salary
2. Artists who just want to get their art to their masses
3. Collectors who want to survey young and upcoming artists before they get famous and expensive!
+ + + + + + + + + + + + + + + + + + + + + + + +
Featuring 40 stalls by artists known and not-yet-known selling:
Paintings
Drawings
Photos
T-shirts
Accessories
Hand-sewn dolls
Mini Sculptures
Music
Movies
+ Artistic Services (hmm!)
You can also join
Workshops on Tap-Dancing + Modern Jazz Dance
or
Chill Out with Cute Cupcakes + Coffee in the Loft,
while you watch the masses haggle below you...
Eh, no need to haggle lah please...
EVERYTHING UNDER RM100!
+ + + + + + + + + + + + + + + + + + + + + + + +
In conjunction with:
1. WORLD PRESS FREEDOM DAY (by Centre for Independent Journalism) + workshops on Freedom of Expression and Freedom of Information
2. DONT TAI DU (Chinese Indie Music Revival) on Saturday
3. Tribute to ROCK KANGKANG on Sunday
For more details and interviews with the writers and publishers please contact:
Amir Muhammad – kancah2001@yahoo.com;
Zulhabri Supian – zulhabri@gmail.com;
Dina Zaman – dinazaman@gmail.com;
List of participants
1 Gerakbudaya
2 SIRD
3 Matahari
4 Tokobuku/Amnesty International
5 Silverfish
6 Kinibooks
7 Sindiket Soljah
8 Holograms
9 ZI Publishing
10 Kakiseni
11 Sisters in Islam
12 Monsoons
13 Project Connect
14 MSRI
15 Malaysian Bookcrossers
16 IKD (Institut Kajian dasar/Middle eastern graduates centre)
17 Kechara
18 Suara-Suara
19 Aliran
20 APD Singapore